It's my goal to help people apply truth–biblical truth (capital "T" truth") and empirical research (little "t" truth)–to grow. Personally. Professionally. Organizationally. Relationally. Spiritually…you get the idea. Because I believe God's nature is generous and abundant, one of the most powerful ways we can experience our purpose in life is to grow–and also for the things we touch to also grow. What glorifies God is fruitfulness, and a flourishing life is one of the most beautiful pictures of fruitfulness in the world.
I am particularly focused on helping leaders and organizations exponentially expand their influence and impact, particularly where that impact intersects with genuine need and transcendent purpose.
Business profit is good. It keeps us employed and providing for our families, important for sure.
Ultimately, however, I believe God is after a fruitfulness that goes way beyond a paycheck, where our character changes the world one encounter at a time, where business creativity solves the deficits we find in our own communities, and where leaders bring healing to the pathologies of our culture, serving faithfully in the sphere God has called them.
There are no shortcuts, and yet, there is no telling what God might do in a moment through a man or woman whose motivation is Jesus' renown.
What I am up to these days:
After a six year stint in for-profit companies leading marketing teams, I have joined back up with Dr. Del Tackett to help build the follow up to The Truth Project, which was a resource produced over 10 years ago that resulted in over 15 million people's participation in small group Bible study groups. To learn more about this follow-up resource, called The Engagement Project, please visit www.DelTackett.com where you can sign up for updates to stay in touch.
Also, I speak on the topics of personal growth and calling which are subjects addressed in the book I wrote (with 2 colleagues) called  The 2:10 Project, Discover Your Place in God's Story, a book and online process that helps people answer the 2 most pressing questions of our lives: Why am I here, and what does God want me to do with my life?
What fills the majority of my schedule are marketing projects at my agency, MKF Strategic Marketing (visit www.MKFStrategicMarketing.com to learn more). I have the privilege to work with great leaders and organizations to help develop marketing that works, and strategic initiatives that move the needle of impact and profit. Much of this happens through  measurable and effective marketing systems and campaigns to grow the bottom line.
My Background: A Circuitous Career Path
I have worked in a wide range of career tracks: teacher (high school and college), pastor, non-profit executive, head of marketing at a fast-growing software company, head of marketing at a financial advisory services firm, writer, coach, consultant, speaker and trainer. This circuitous path has given me insight into growth and development–for individuals and organizations.
More important than the roles I've had, I have functioned as a catalyst for change leading to growth, bringing strategic impact for organizations through people. I am a kind of "swiss army knife" for growth: project and program management, innovation process, marketing strategy, and leadership and organizational development.
​
Regarding the marketing path I've traveled: I've never thought of myself as a marketer. In fact, I've explained to folks that I wouldn't have been a very good marketer 20 years ago, when the primary approach might best have been characterized as image management and where the name of the game was more about manipulation than persuasion. Today, however, we're living in an age of very smart and perceptive consumers. In this new world, authenticity, empathy, generosity, trust, and total accountability to the customer experience is what gets the best results.
As a result, I have teamed up with Donald Miller and the StoryBrand team and am now a StoryBrand Certified Guide, which gives me the opportunity to lead my clients through a really effective process to nail down their messaging in a way that focuses on the client/customer's experience, not the business owner. As we StoryBrand folks say, "Your customer is the hero of the story, not you the product or service provider." (For more information on this, click here)
Today, I have the privilege to lead a team who throw their whole selves into providing customer/client marketing strategy and execution. As a result, we deliver a company's unique mix of brand experience, customer experience, and product and service value in ways that are authentic, empathetic, and generous. Our goal isn't about closing a transaction, but about creating fanatical customers who trust an organization as a partner.
Theme: Movements Fueled by Exponential Growth​​
In the past 15+ years I have helped to build exponential growth at one international non-profit organization (Focus on the Family), at a global technology software company (Cherwell Software), at a national financial advisory firm (Hanson McClain Advisors), and at a second non-profit organization (Alliance Ministries and the book, The 2:10 Project) through developing exceptional content, managing strategic projects, building marketing ecosystems, and inspiring teams.
​
For example, at Cherwell Software, I led the marketing team for one of the fastest growing software companies in the ITSM space, growing from $8M in 2012 to $16M in 2013, then $31M in 2014. At this time, I was responsible for sourcing 75% of revenue, and as a senior executive participated in the acquisition of a $25M investment from the private equity firm Insight Venture Partners. Over 24 months, I led the evolution of a marketing staff of 3 to a global team of 16 marketers, facilitated an annual senior management innovation retreat, and managed analyst relations with Gartner, Forrester, and IDC, all toward the goal of establishing Cherwell as a force. Today, Cherwell continues to excel as a leader in the ITSM software technology space.
Hanson McClain Advisors, a successful retirement planning and asset management firm of more than 20 years, wanted to evolve their marketing, namely to build for the first time a digital marketing strategy and infrastructure in order to deliver marketing campaigns across numerous channels (omni channel). The marketing growth I led resulted in the production of 2 lead-generating websites, over 1200 pieces of digital content, an inbound marketing funnel, and refreshed brand identity, ultimately tripling the number of new first-time appointments within 24 months. As a result, the business expanded into the San Francisco Bay Area, Colorado, and Southern California, going from serving a region of 2 million people to over 30 million people. Earlier this year, the owners successfully executed a sale to a private equity firm for 70% of the company's value, with the goal to grow from $2.5B in AUM to $10B over the next 5 years.
Additional Work Projects
Publishing, writing, speaking, teaching, consulting around strategy and marketing, I often have numerous irons in the fire. What I look for when saying "yes" to a project is an intersection between my experience (marketing, program management, innovation) and my passion for the positive–call it "good"–impact of the organization on people, families, and communities. One other interesting fact: I also serve others in a role as an ordained minister, discipling, counseling, performing weddings and memorials…all of this again out of my passion to help others make a difference in life, especially around genuine need and transcendent purpose (as I am trying to do myself).
​
Education
I received a bachelor's degree in English and Psychology from the University of California, Davis. I also hold a Masters of Arts degree in Education from Claremont Graduate University, an MBA from the Jack Welch Management Institute, and a Masters of Practical Ministry from the Wagner Leadership Institute, Yes, I am a avid and dedicated life-long learner.
​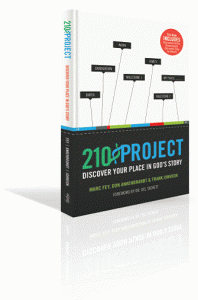 Passion Project
As referenced above, a few years ago I wrote a book (with co-authors Don Ankenbrandt and Frank Johnson) called The 2:10 Project, that includes an online process designed to help people find their unique contribution in the world, "their place in God's story" (www.210Project.com). We are amazed that with over 15,000 books in circulation, it has undergone its third printing, bringing the total to 25,000. But just like the book's message, it's not about the numbers, but about the sacred work of God in each person's life, leading a person to find and fulfill their role in God's story.
Writing
Writing is one lens through which I seek to understand God's truth more deeply, as I read in the Scriptures and as I experience through the world in which we live. Often, writing is first for the writer, as he (or she) comes to understand the world better through the writing process. As a result, I have written and spoken widely on the topics of biblical worldview, personal growth, leadership, culture and worldview.
Because of a life-long curiosity to understand human behavior, begun in college as I studied psychology, I look closely at research that is descriptive of behavior (not philosophically interpretive). For example, research that shows the power of gratitude to shape a flourishing life affirms what God's truth teaches. While the curse of sin is always a prevailing key to interpreting the meaning of life, like a good farmer we also learn from what God has wired into the design of life, what He blesses because it is aligned with His character and nature. I believe solid research helps us discover God's truths which He has built into the world, one that He cares for and seeks to bring to full restoration and healing.
Thus, my passion is to see people find meaning and engagement in life, connecting with God in all spheres of life, thus finding their purpose in God's plan for their lives, and making a difference in others' lives.
Colorado to California
After 16 years in Colorado, my family and I (minus two college-grad sons) moved back to Northern California (where my wife and I had grown up) in order to be close to parents in this season of life. I currently reside in Rocklin, CA with my wife of 31+ years and our 18 year-old daughter.